conpal LAN Crypt 2Go Reader
PDF ⤓
---
What is conpal LAN Crypt 2Go Reader?
conpal LAN Crypt 2Go Reader enables the secure exchange of confidential data by decrypting password-protected data.
conpal LAN Crypt 2Go Reader is a complement to the conpal LAN Crypt Clients. The application allows easy decryption of all files password-encrypted by LAN Crypt applications, so that files can be easily decrypted even by people and organizations that do not yet use one of the LAN Crypt products.
conpal LAN Crypt 2Go Reader is available in English and German language.
Note

conpal LAN Crypt 2Go Reader is closely related to the LAN Crypt 2Go client, but only supports file decryption!

Both products (conpal LAN Crypt 2Go and conpal LAN Crypt 2Go Reader) can be installed and uninstalled independently.
Example usage
Imagine you want to provide an external marketing agency with several Excel files containing confidential financial data encrypted with one of the LAN Crypt products. You also receive a password to decrypt the files.
Now you can use conpal LAN Crypt 2Go Reader to decrypt the given files with the received password.
---
Installation and upgrade
conpal LAN Crypt 2Go Reader is available on the following platforms:
Windows 10 or later (x64)
Individual installation packages are available for the following platforms:
lc2go.msi - Windows (Intel-x64)
Installation
conpal LAN Crypt 2Go Reader supports two different installation modes: Current User and All Users.
Installation option: All users.
By default, the installation of conpal LAN Crypt 2Go Reader does not require administrator privileges and can be performed by any user. If the installation is performed by one user, the application will be installed so that it is only available to that user. Other user accounts on the same system will not have access to the installed product.
The administrative installation of conpal LAN Crypt 2Go Reader makes the product available to all users. To do this, you must run Setup in Advanced mode and override the MSIINSTALLPERUSER parameter.
Run the following command from a Windows terminal with elevated privileges:
msiexec /i lc2go.msi MSIINSTALLPERUSER=""
This will install the product for all users on the system.
Uninstall conpal LAN Crypt 2Go Reader
conpal LAN Crypt 2Go Reader can be removed from a system at any time. Uninstallation follows the standard software removal procedures for each platform.
Note

After uninstalling conpal LAN Crypt 2Go Reader, encrypted files on the computer can no longer be decrypted. Uninstalling conpal LAN Crypt 2Go Reader does not uninstall any other product from conpal LAN Crypt.
---
Decrypting password protected files
Using the graphical user interface
When opening the app by selecting the conpal LAN Crypt 2Go Reader program icon, the decryption dialog will appear. Use the Select… button to select the file to decrypt or drag in the desired file.
When decrypting a file that has been password-encrypted by one of the LAN Crypt products, the system first checks whether the required key is already stored. If this is the case, it is automatically used for decryption. If the required key is not yet available, the key password must be entered to successfully decrypt the file. A key is derived from the entered password and saved, so it can be used for further encryption and decryption.
Note

When decrypting a file, conpal LAN Crypt 2Go Reader creates an unencrypted copy of the file. It also restores the original file extension of the file by removing the .pcrypt extension.
Using the context menu
conpal LAN Crypt 2Go Reader adds its own commands to the context menu of files. These are displayed when you right-click on a file. Files can be decrypted directly from the context menu.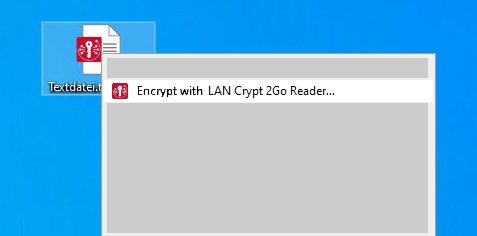 Using drag-and-drop
Simply drag the file you want to encrypt or decrypt onto the program icon of conpal LAN Crypt 2Go Reader.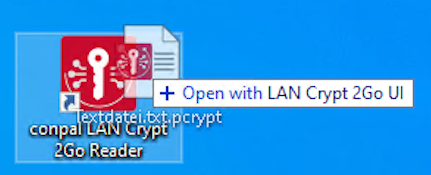 ---
View and edit encrypted files
Files can also be edited directly without manual decryption. In this case, the encrypted file is automatically decrypted when opened and then re-encrypted with the corresponding password after editing. The prerequisite for this is that the required key has already been saved or is entered correctly on request.
The respective standard program is used to edit the file (e.g. original .docx files are opened with Microsoft Office by default).
Note

If an encrypted file is read-only, the temporarily decrypted file is also read-only. This usually results in the respective default program preventing changes to the file.

To create a decrypted version of a .pcrypt file, you can either use Save as within the respective editing program or open conpal LAN Crypt 2Go, select an encrypted file and tap the Decrypt button.
---
Technical support
Technical support for conpal products can be accessed as follows:
At support.conpal.de maintenance contract customers get access to further information, such as knowledge items.
As a maintenance contract customer send an email to technical support:
and include the version number(s), operating system(s) and patch level of your conpal software as well as the exact wording of error messages, if applicable.
---
Legal notice
Copyright © 2018 - 2023 conpal GmbH, 1996 - 2018 Sophos Limited and Sophos Group. All rights reserved. conpal®, AccessOn® and AuthomaticOn® are registered trademarks of conpal GmbH.
All other product and company names mentioned are trademarks or registered trademarks of their respective owners.
No part of this publication may be reproduced, stored in a retrieval system, or transmitted, in any form or by any means, electronic, mechanical, photocopying, recording or otherwise unless you are either a valid license where the documentation can be reproduced in accordance with the license terms or you otherwise have the prior permission in writing of the copyright owner.
You find copyright information on third party suppliers in the 3rd Party Software document in your product directory.
---
Last updated 16.01.2023